Grandview is an independent senior living facility dedicated
to making the lives of local seniors carefree and enjoyable.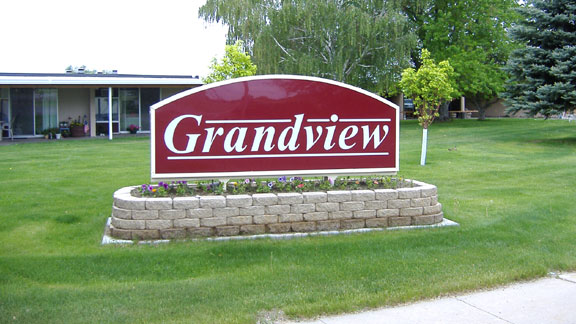 Grandview offers one and two room apartments that all have a
patio, private bath and walk-in showers
with bath ventilation, as well as an efficiency
kitchen. The apartments are unfurnished. All apartments
have individually controlled thermostats for heating.
Utilities, Cable TV and Wi-Fi are included in the rent.

Grandview is a non-smoking facility. The corridors are well
lighted with dual safety rails. All doors are extra wide and
have secure locks. Inside apartment doors have "peepholes"
to view visitors before opening.

There is a manager and maintenance supervisor on
duty 40 hours a week. Emergency help is available 24/7.
Our staff cares for and maintains the building and its common
areas, sidewalks and lawns. An inside courtyard is available
for the tenants to use and enjoy, and patio gardens
are welcome and encouraged.

Grandview provides a home cooked noon meal served
seven days a week. The noon meal is served in our dining
room. Snacks and coffee are available throughout the day.

Each tenant has their own personal post office box. A
self-service laundry with coin operated machines are
available on site. An outdoor clothes line is also
available for use by tenants. Also on-site is a beauty
shop/ barber shop available to tenants by appointment.
Parking spaces with electrical plug-ins are available
for tenant personal vehicles.

Please visit our webpages to see photographs of our
facilities, apartments and activities. If you are interested
in submitting an application to become a tenant of Grandview,
please contact us or submit an application today.

Thank you for visiting us!

Grandview Retirement Home, Inc.
1711 N. Merrill Ave.
Glendive, Montana 59330
(406) 377-3575
manager@glendivegrandview.org


Send Us an Email